Broadway shows are a must-see when visiting New York City. Each year about 13 million people take in a show at one of the city's 40 Broadway theaters, BroadwayWorld reports. Many of them will go on tour around the country after their New York run is over, so top Broadway shows could be coming to a city near you. Here are 10 to watch Broadway Shows.: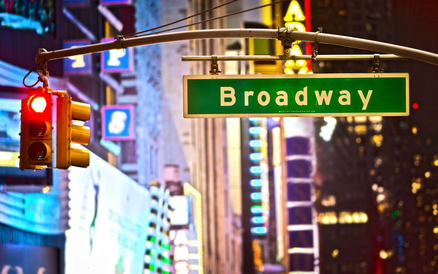 10. 'Newsies'
Disney's "Newsies" brings the 1992 film to life with song and dance. The music was scored by Alan Menken, an eight-time Academy Award winner. The story is inspiring, entertaining and the whole family can enjoy it.
9. 'Wicked'
Directed by Tony Award-winner Joe Mantello, "Wicked" is based upon the best-selling 1995 book by Gregory Maguire. This entrancing, humorous and occasionally sad Broadway play is enjoyed by kids as well as adults. It features a script by Winnie Holzman and music and lyrics composed by Stephen Schwartz.
8. 'The Bridges of Madison County'
If you enjoyed the book and/or movie, you'll love the musical. "The Bridges of Madison County" will transport you into the heartland with this story about a beautiful young woman from Italy who moves to Iowa. It turns out that love is looking for our heroine, and it finds her when she least expects it.
7. 'Jersey Boys'
Winner of four Tony awards and the Laurence Olivier Award for Best New Musical, "Jersey Boys" uses Four Seasons' musical hits to tell the tale of the band's rocky rise to fame. With top-notch acting, amazing set design and incredible singing, you're sure to be transported.
6. 'The Book of Mormon'
From the makers of "South Park," "Book of Mormon," is the winner of nine Tony awards, including Best Musical. Trey Parker, Robert Lopez and Matt Stone dreamed up this religious satire and Robert Lopez composed the music. The play centers around two young Mormon missionaries sent to a village in northern Uganda, where a brutal war lord terrorizes the locals. The two missionaries naively attempt to share the Book of Mormon, which only one of them has actually read. The play reflects the creators' lifelong fascination with Mormonism and musicals, and no opportunity for satire is untouched.
5. 'Let it Be'
This amazing show features 40 Beatles hits that you'll want to dance, sing and cheer along to. Enjoy classics like "I Wanna Hold Your Hand," "Hey Jude," "Yesterday," "Drive My Car," "Come Together" and, of course, "Let It Be."
4. 'Chicago'
"Chicago" is a rollicking story of murder, corruption and adultery as told by Roxie Hart, a chorus girl who is looking to become a big star. Roxie murders her lover and recounts the story in song along with an amazing cast.
3. 'Mamma Mia'
"Mamma Mia" is a sunny, funny and uplifting story set on a small Greek island. On the eve of her wedding, the main character's quest to find her father brings back three men from her mother's past. The 1970s super group ABBA supplies the 23 hit songs of the musical.
2. 'Rock of Ages'
"Rock of Ages" is a fun, crowd-pleasing experience and a smash hit worldwide. You'll enjoy 28 of the best 80s rock tunes from Journey, Bon Jovi, REO Speedwagon, and more. The story takes place on L.A.'s famous Sunset Strip in 1987 as Drew, a guy from South Detroit, and Sherrie, a small-town girl, move to L.A. to find their dreams. If you came of age in the 1980s, this musical is for you.
1. 'The Lion King'
"The Lion King" has won six Tony awards is still drawing huge crowds. The award-winning musical is a feast for the senses, telling a classic, gripping tale of the African safari. It combines spectacular costumes, elaborate sets and a hit soundtrack.