With the arrival of Twilight and TV shows like The Vampire Diaries and True Blood, there is an immense craze in vampires, especially in teens. But vampires movies and TV shows have existed a long way before as well. Popularity of vampires at that time was good but not as high as today. Shows like Buffy the Vampire Slayer and movies like From Dust till Dawn and Underworld have seen good response. One thing to note about vampires is that all of them are really hot. To make a list of the top ten hottest vampires out of so many choices is really difficult. This is because there have been so many hot vampires that it is not possible to do justice with a top ten list of the hottest vampires. My list is based on the level of hotness of the vampire, and the fan base of the vampire.
Here is the list of the top 10 Hottest Vampires:
10. Salma Hayek (From Dusk Till Dawn)
One of the hottest movie scenes of all time, from Dusk Till Dawn witnessed Salma Hayek as one of the hottest vampires in a hot dance sequence. Santanico Pandemonium played by Salma Hayek is a vampire belly dancer who gyrates her body to the rhythm of the music. The scene may be short, but is regarded by many as one of the hottest movie scenes of all time.
9. Stephen Moyer as Bill Compton (True Blood)
Stephen Moyer plays the role of Bill Compton from the show, True Blood. True Blood is a show filled with many hot personalities and Bill is just one of them. His English accent is very well received by the audiences. In the initial seasons of True Blood, he played the good vampire who fell in love with the show lead, Sookie, but in later seasons, he has evolved into a typical vampire which has just caused his level of hotness to go that much higher.
8. James Marsters as Spike (Buffy the Vampire Slayer)
Spike played by James Marsters is one of the most famous vampires and a fan favorite. He is a typical bad-boy vampire. He is one of the few vampires whose life had a range of variations. Spike is a real fan favorite, especially for Buffy the Vampire Slayer fans.
7. Joseph Morgan as Klaus (The Vampire Diaries)
Jospeh Morgan plays Klaus, by far the most dangerous vampire of all time. His fear is enough to force people out of the town, Mystic Falls. And all this fear and danger makes him hot. Competing in a show like The Vampire Diaries which already has Damon Salvatore, it is always difficult to top the hotness level, but Klaus is definitely giving Damon a run for his money.
6. Kate Beckinsale (Underworld)
Kate Beckinsale is an established movie star and in the movie, Underworld, she plays a vampire. Dressed in a tight latex suit, she is a major attraction in the movie because of her hotness. She may try not to look hot, but her hotness has made her a fan favorite vampire. She has a huge fan base and with 4 Underworld movies so far, she has not disappointed her fans.
5. Paul Wesley as Stefan Salvatore (The Vampire Diaries)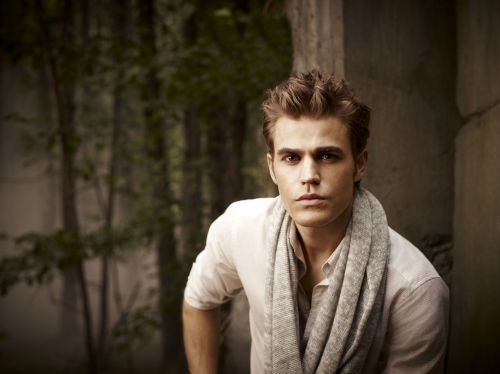 Paul Wesley plays Stefan Salvatore, one of the leads in the hit TV show, The Vampire Diaries. He has developed a huge fan base and plays the love interest of the show lead, Elena Gilbert. Stefan is loved by the fans because of his good nature, not usually associated with vampires. To go with his good nature, he is extremely hot and has a lot of girl fan base.
4. Robert Pattison as Edward Cullen (Twilight)
Robert Pattison rose to fame by playing the lead in the movie Twilight, Edward Cullen. Normally he wouldn't have made my list but because of his huge fan base, especially the teenage girls, he is number 4 in this list. He is continuously competing with the werewolf,  Jack to win the love of Bella. Very recently, Pattison and Kristen Stewart separated after dating for several months. Let's see how his love story on the big screen transpires.
3. Nina Dobrev as Katherine (The Vampire Diaries)
Nina Dobrev, who also plays the human Elena, plays the female vampire hottie, Katherine in The Vampire Diaries. Katherine is extremely hot and dangerous. She is the type of vampire who loves attention and loves to have fun. She was the one who turned the Salvatore brothers to vampires so that she could love them both for eternity. Katherine is by far the hottest female vampire.
2. Alexander Skarsgard as Eric Northman (True Blood)
It was always diffcult choosing between Ian Somerhalder and Alex Skarsgard for the number 1 position, but Alex Skarsgard is number 2 in my list. He plays the role of Eric Northman. Eric Northman is a very hot vampire and the Sheriff of the area in True Blood. He likes having fun, loves to live dangerously and is the typical bad-boy vampire. He is competing with Bill for the love of Sookie. Eric Northman was not meant to be so much popular among the fans, but his hotness propelled him to new heights of fame. With a great muscular physique, he is very popular among adult female fans who watch True Blood.
1. Ian Somerhalder as Damon Salvatore (The Vampire Dairies)
By far, the most hottest and the most sexiest vampire is Ian Somerhalder who plays the bad-boy Damon Salvatore on the show, The Vampire Diaries. He has a huge female fan base. Men also envy his hotness. To go with his hot looks are his acting skills. Majority of fans want him to hook up with Elena Gilbert on the show (in real life, Ian is dating Nina Dobrev). With several shower scenes in the last season of The Vampire Diaries and several more to come, the fans are in for a treat.