You'll often hear football fans arguing about whether their club is the biggest based on value and previous successes etc. Well now, to some extent at least, respected business magazine Forbes has settled the argument for the world's top ten biggest football clubs by putting a US dollar value on each. So here they are in reverse order.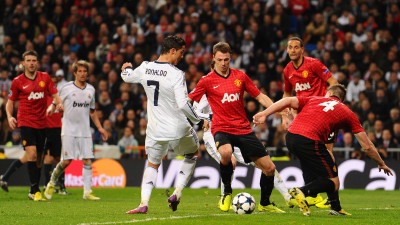 10. Liverpool
Value: $651m
Owned by the Fenway Sports Group, Liverpool, currently 7/1 with Paddy Power to win the league this season would surely have been higher up this list had it been compiled two or more decades ago. The one-time giants of English football have slipped in comparison to their peers over recent years, but are still a big financial force to be reckoned with, clearly.
So "LFC" is still a major international brand – but where will they be in another ten years' time?
9. Man City
Value: $689
Next up, we have another English giant in the shape of the burgeoning Manchester City. To rate Man City as a bigger concern than Liverpool would have been laughable until a few years ago when the club was taken over by Sheikh Mansour bin Zayed Al Nahyan who has put his money where his mouth is – and how!
Of course, the club couldn't repeat their Premier League success last season – finishing as runner-up in the two main domestic competitions in England – which was enough to see the back of Roberto Mancini.  New manager Manuel Pellegrini has reportedly been told to sell, however, before he can spend – and has got things off to a mixed start so far. Time will tell whether the Sheik's millions will send Man City further up this list in the years to come.
8. Juventus
Value: $694 million
Next, a move to Turin for the traditional Italian giants in the shape of the Agnelli family-owned Juvé.
Back-to-back Serie A titles have seen the 'Old Lady' of Italian football stage something of a renaissance in the country – whilst manager Antonio Conte has made some big signings to make more of an impression on the Champions League stage. Time will tell – but Juventus will always be there or thereabouts on this type of list. Juventus are actually currently odds-on to win Serie A.
7. Chelsea
Value: $901 million
The same can't really be said of Chelsea. It is, of course, owner: Roman Abramovich's millions which have put the West London blues so high on the world stage and if that ever changes – they will surely slide back down. However, they're here for now and, with the "Special One" himself back at the helm in the shape of José Mourinho – anything is possible while the cash keeps coming.
6. AC Milan
Value: $945 million
The beleaguered former Italian President Silvio Berlusconi's club is the biggest Italian name in world football – however much neighbours Inter and Juventus may not like the fact. But attendances at the shared San Siro have declined in recent years and there's a huge amount of rivalry in the country for the top slot.
5. Bayern Munich
Value: $1.309 billion
Next up, the Bundesliga giants and reigning European Champions Bayern Munich can do no wrong at the moment – and with Pep Guardiola at the helm helping to ensure Bayern play the game beautifully – the future certainly looks bright. Bayern's revenues are double those of closest German rivals Borussia Dortmund in the Bundesliga – which puts them top of the German football charts in more ways than one.
4. Arsenal
Value: $1.326 billion
Stan Kroenke's Arsenal still sit high on the list despite not having won a major trophy for a long time. However, the Gunners' match-day revenues were almost $150 million in the 2011-12 seasons, the third-highest in world football thanks to capacity crowds attending the 60,400-seat Emirates Stadium. Here again, the future looks bright as long as boss Arsene Wenger stays interested.
3. Barcelona
Value: $2.6 billion
In third position, we have the best club in the world over the past decade or so – Barcelona whose kit sponsorship deal with Qatar Sports alone is worth close to $40,m a year through to the 2015-16 season.
2. Man United
Value: $3.165 billion
Topping the English charts, as you might imagine, are the Glazer family-owned Manchester United. But this is a club in transition following the departure of Sir Alex Ferguson after 27 years at the helm during which United landed its record 20th league title.
Sir Alex's success helped make Man United the biggest worldwide brand in football – but you might think that the only way from this lofty position is down? Time will tell.
1. Real Madrid
Value: $3.3 billion
And finally – owned by its club members, Real Madrid remains the most valuable brand in world football according to Forbes thanks mainly to the highest revenues in sports (Real generated $650m in the 2011-12 seasons – whilst sponsorship deals with Adidas and Emirates Airlines will bring in an estimated $80m a year).