Hollywood-the place where dreams come true. Hollywood has changed the lives of many people and given unprecedented fame to others. And the main source of such a change is acting. Acting is never an easy job and there are schools and theaters which give training to actors. Not everybody can be an actor. An actor has to shed all inhibitions and do something extraordinary to get noticed among several other actors. One has to understand that succeeding as an actor is a tough job because millions are competing to get to the top but over the years, only a handful get selected. Over the years, Hollywood has produced some of the most versatile actors of all time.
It is never easy to select a top ten list for best actors because there have been numerous good actors. My list for the best Hollywood actors is based on the versatility of the actors and how many different roles they have done.
Following is the list of the top ten best actors of all time:
10. Ryan Gosling
Many of you would be surprised to see his name here but he is one of the most versatile actors in the current generation of actors and has done a lot of different roles. From "Notebook" to "Drive", "Crazy Stupid Love" to "Ides of March", he has done everything. He is the one to look out for the future. His upcoming film with Sean Penn and Emma Stone, "Gangster Squad", is one of the most awaited films of the year.
9. Leonardo DiCaprio
He stole many hearts in "Titanic" but he has done a lot of great films, especially with Martin Scorsese. Nominated for Oscars 3 times and Golden Globes 8 times, he has done a number of different roles. He has grown as an actor over the years and now is regarded as one of the best actors of his generation. His roles in "The Departed" and "Blood Diamond" still draws praise from different circles.
8. Heath Ledger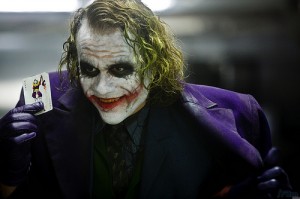 What an actor and what a story he has. He started off with reputation of being only a hot guy. It took him 5 years to get rid of that reputation and get people take him seriously as an actor. His work in films like "Brokeback Mountain" was well appreciated but his biggest scalp came in "Batman: The Dark Knight". The film was not released in cinemas when he died aged 28. When the film was released, his role in Joker was praised by all. He won an Oscar for his role but unfortunately he was not there to receive it. Had death not separated him and Hollywood, he would have bagged several Oscars, a great actor he was.
7. Edward Norton
Edward Norton is an actor everybody admire. The main reason for this is that he does not go for movies that are commercial but are different, innovative and showcase his acting skills. He is best known for "Fight Club", "American History X', "The Incredible Hulk" and "The Illusionist". He has also  done many other roles which are all different and very good. He is perhaps the most underrated actor of his time.
6. Johnny Depp
Johnny Depp is one of the most popular actors among all age groups. He has done roles for Disney like Captain Jack Sparrow, and adult films like "Blow" and "Donnie Brasco". He is one of the most versatile actors of his generation and is an immensely popular actor.
5. Tom Hanks
Tom Hanks is one of the greatest actors of his generation. He has won 2 Oscars. His most notable role was in "Forrest Gump".  Other notable films include "Catch Me If You Can", "Green Mile", "Saving Private Ryan" and "Da Vinci Code".
4. Jack Nicholson
Jack Nicholson is one of the greatest actors of all time. He has been nominated for Oscars 12 times, having won it for "One Flew Over Cuckoo's Nest" and "As Good as It Gets". Other great roles he has potryed in include films like "The Shining", "The Departed" and "Batman". He is also one of the two actors who have been nominated for an Oscar in every decade from the 1960s to 2000s.
3. Marlon Brando
Marlon Brando, The Godfather! Marlon Brando is widely considered to be the greatest and the most influential actors of all time. In words of legendary director Martin Scorsese: "He is the marker. There's 'before Brando' and 'after Brando'." His greatest role came in the greatest movie of all time, "The Godfather" where he played the lead role of Don Vito Corleone and which won him the Oscar. Other great films include "On the Waterfront", "Superman", "Apocalypse Now" and "A Streetcar Named Desire".
2. Al Pacino
Al Pacino had done it all. He has done both theater and movies. He is considered to be the one of the greatest actors of all time. He is well known for his roles in films like "The Godfather", "Scarface", "Heat", and "Carlito's Way". He won the Oscar for his role in the film "Scent of a Woman". May people believe he was unjustifiably denied an Oscar for his portrayal as Michael Corleone in "The Godfather".
1. Robert De Niro
Robert De Niro is the greatest actor of all time. He is best known for the films he did with Martin Scorsese, which include "Taxi Driver", "Raging Bull", "Mean Streets", "Casino", "Goodfellas", "Cape fear". He also played the role of Don Vito Corleone in "The Godfather 2″ for which he won an Oscar. He became the first actor to win an Oscar without speaking English a lot because his role in "The Godfather 2″ was in Italian. He won the Oscar for "The Raging Bull" in which he completely transformed himself for the film by gaining excessive weight. He has earned 4 golden Globe nominations and 6 Oscar nominations. He is, by far, the greatest actor of all time.